Since sex and porn are inextricably interconnected, it makes sense to talk about both. Part of this piece was to attempt to simply explain deviant sexual behaviors, and another part was to try to understand how they related to pornography.
One of the most difficult parts of this was simply deciding which sexual interests, urges, fantasies, or behaviors of marked intensity involving objects, activities, or even situations that are atypical in nature, to include. Psychology prefers to refer to persisting and such recurring urges as "paraphilias."
Some of the chosen fettishes were directly obtained from the DSM-5, and others from survey's, and psychology studies and authors.
It brings up a host of questions such as:
The difference between a fantasy and an imagined crime
The difference between desires and behaviors
The difference between pretend (consenting) and actual (non-consenting) in the case of harmful fantasies.
Science will likely never conclude anything permanent on these especially since they are social behaviors and constructs.   In a review of "Studies of sexual fantasies in samples drawn from nonclinical populations" (PDF) What Exactly Is an Unusual Sexual Fantasy? (researchgate.net)
Sexual Deviance Frequencies in the General Population
Fantasy / Orientation
Description
Frequency in US Population
Notes / Other
Biastophilia / Rape Fantasy
(attraction to rape or being raped)
40% - 70%
May include real (non-consenting) or pretend (consenting)
LGBTQ+
(non-binary)
5.6%
Increasing over time (see Gallup studies)
Pedophilia
(attraction to children)
5%
Possibly higher since this was based on 1940's data
BDSM
(infliction of pain)
40% - 70%
BDSM means: Bondage, discipline (or domination), sadism (or submission), masochism
Zoophilia
(attraction to animals)
2.6%

2.2% Women
3% Men
Bestiality is "the legal term for the criminal offense of engaging in sexual relations with an animal or animals.
Frotteurism (Groping, Touching)
(touching or rubbing one's genitals up against another person in a sexual manner without their consent)
>30% have actually committed frotteurism
Est. 40%+ have fantasy's since all other fettishes/disorders always have a higher rate of fantasy compared to those that have committed the actual crime.
Incest (step relatives)
(sexual interest in relatives)
No data
If you include current pornography trends, it may be much higher.
Urophilia
(being peed on by your partner, or your partner peeing on you)
6.8%

3.5% Women
10% Men
This piece does not cover every possible variation out there as there are countless various sexual desires out there, which is too many to list here because they are obscure or I could not find data (e.g. somnophilia, necrophilia).
There are also an innumerable number of behaviors of which have no official classification nor are recognized as a disorder or deviation, such as:
cheating/infidelity on one's spouse/partner and other non-committal sex acts
group/multi-person sex
many other atypical behaviors
In an attempt to discover the frequency of numerous sexual fetishes, a team surveyed 1,516 internet using adults. The obvious issue with this approach is that internet usage is generally correlated with younger and more deviant, stimulation seeking, populations.  The same survey should be conducted at nursing homes or other non-internet, older populations to see how the results might differ. Regardless, some of the data above comes from this survey, but it does highlight the growing issue of defining "deviance."  What Exactly Is an Unusual Sexual Fantasy? – Joyal – 2015 – The Journal of Sexual Medicine – Wiley Online Library BusinessInsider shares the actual data.
Rape Fantasy
"A formidable 61% of women and 57% of men, out of 4100 Americans surveyed, admitted to having some form of rape fantasy"
American Psychiatric Association . Diagnostic and Statistical Manual of Mental Disorders.
There is a lot of debate on this topic alone, whether it has other measurable impacts to society. Generally the data currently suggests that real rape is down. However, like all other deviant fantasies/porn, is increasing over time, even if it appears harmless for now.
Voyeurism
"Up to 12% of men and 4% of women meet the diagnostic criteria for voyeuristic disorder."
Diagnostic and statistical manual of mental disorders : DSM-5. Washington, D.C: American Psychiatric Association. 2013. ISBN 0890425558.
There does not appear to be more data on this topic.
Frotteurism – Touching Strangers Sexually
"It has been reported that up to 30% of adult males in the general population may have committed frotteuristic acts."
Frotteuristic Disorder | The Paraphilias: Changing Suits in the Evolution of Sexual Interest Paradigms | Oxford Academic (oup.com)
American Psychiatric Association, The (2013). Diagnostic and statistical manual of mental disorders (5th ed.). Arlington, VA: American Psychiatric Publishing.
There does not appear to be more data on this topic.
BDSM Fantasy
"After the literature search and screening process, 60 articles were included. BDSM related fantasies were found to be common (40-70%) in both males and females, while about 20% reported engaging in BDSM. "
Full article: A Systematic Scoping Review of the Prevalence, Etiological, Psychological, and Interpersonal Factors Associated with BDSM (tandfonline.com)
Zoophilia / Bestiality
"Three of the studies below (Holoyda and Newman, Ranger and Fedoroff, and Satapathy et.al.), cited the 1948 Kinsey report where he "…reported that 8 percent of males had participated in some form of sexual activity with animals and that 40-50 percent of boys growing up on a farm had sex with an animal at least once. Kinsey also reported that 1.5 percent of females had contact with animals before adolescence…."
"A meta-analysis by Seto and Lalumiere found a 14% rate of bestality among juvenile sex offenders (JSOs). In another study of JSOs, rates for bestiality was 3.9-38% for JSO in the literature the authors reviewed.  Their own data showed 37.5% self-reported bestiality which increased to 81.3% when the JSOs underwent polygraph examination."
What are Paraphilias and How Common is Zoophilia in Adolescents? | Pediatric Case and Reference Article | Pediatric Education
"The Journal of Sexual Medicine found that about 34 percent of men in Brazil, mostly from rural homes, had sex with animals quite often"
Treatment for Zoophilia Not Well-Defined | MedPage Today
This brings up an important point on all the other topics here. If that was 1940, when culture was far more conservative, should we expect a much higher rate of fantasy (thought) and deviance (actions) for this all other deviant/taboo/illegal behaviors? Of course we should.
Finally, the growing subculture of "furries" finally makes a little more sense.
Same-Sex Attraction / Fantasy
"According to a Gallup poll released Wednesday, 5.6% of United States adults identify as LGBT. That's up from 4.5%, based on the company's 2017 data. In 2012, when Gallup began tracking the measure, that number was 3.5%."
The poll found that more than half of LGBT adults (54.6%) identify as bisexual, about a quarter (24.5%) as gay, 11.7% as lesbian and 11.3% as transgender. An additional 3.3% used a different non-heterosexual term to describe their sexual orientation, such as queer or same-gender-loving. Respondents could give multiple responses, bringing the total to over 100%.
Then there is the change over time aspect again: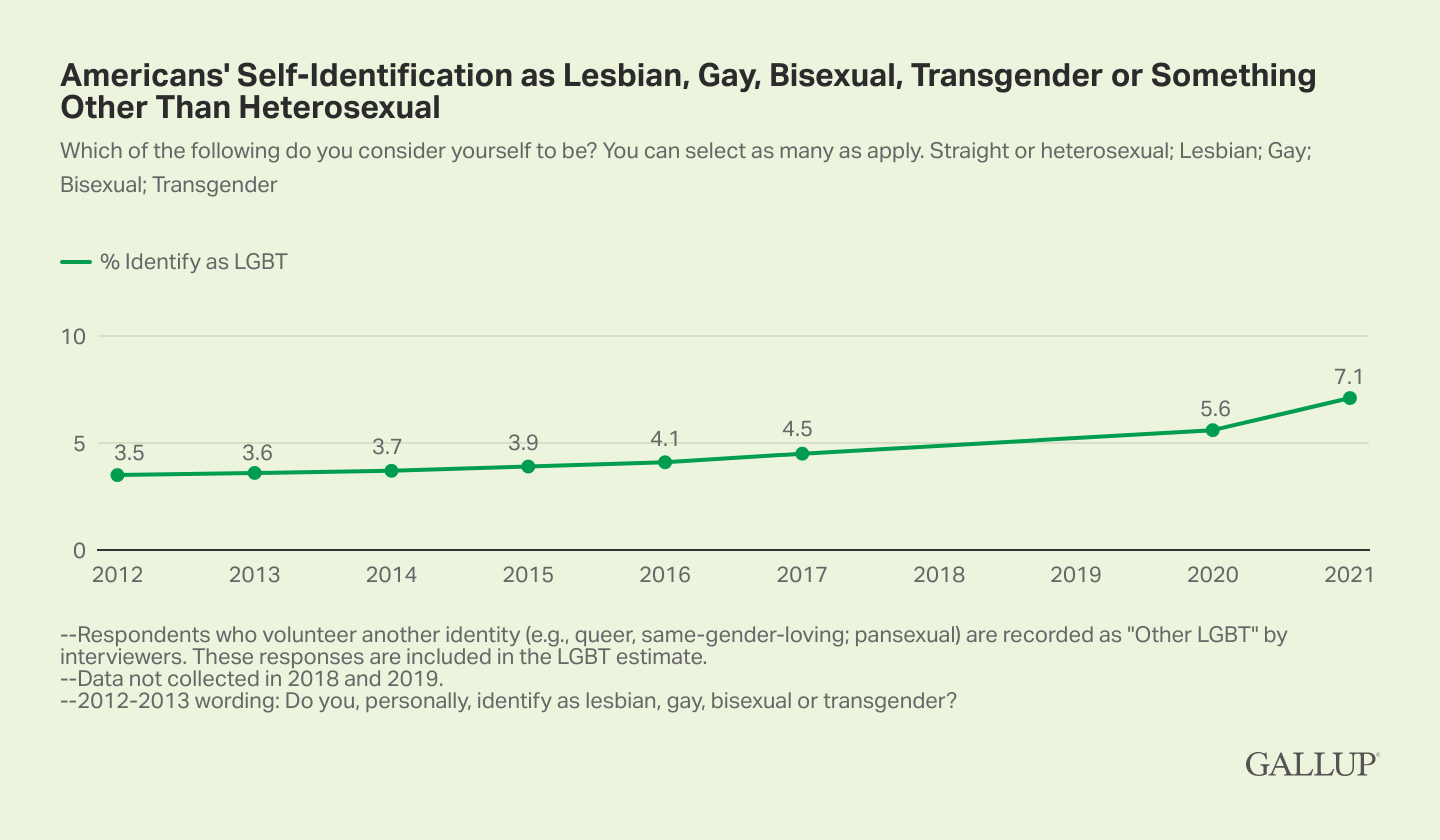 Notice that the rates for non-binary have doubled in a mere 10 years.  Is that not a phenomenon that should be looked at?
Consider that today, 21% of the population under 25 years of age consider themselves LGBT and that <1% of people over 76 feel the same about themselves, with a nice even curve between the age spectrum. Anyone not recognizing the ever changing social realities of sexual self-identification is deluding themselves.
This brings up the question: What is deviance then, especially if a behavior's frequency changes or becomes common?
It is fairly well known that the DSM (American mental health standard manual) removed homosexuality from their manual in the 1960's as a deviant behavior, and as stated earlier "what is deviance really" if it's changing in frequency or socially acceptableness? Is it possible that being straight will no longer be mainstream?
Ultimately, the DSM is just a reflection of the law and cultural demands really; so as long as the person does not break the law and doesn't upset the person, the deviant/abnormal behavior will eventually be removed from the list. Just give it a few decades. They are considering removing pedophilia (feelings) as a disorder, as long as the person doesn't act on it. This is the current medical belief that people do not control their feelings. I think it's a complex subject that includes both nature and nurture.
I actually emailed the author responsible for that idea, asking if DSM decisions are really just based on law in the end, but he did not respond. That is like saying that if my depression/anxiety don't get me into legal trouble, or it's not severe, then it is not a disorder/problem. That does not sound quite right, but I guess the idea is, if it's not causing any problems for anyone, then there's no need to treat it. Now, I do generally agree with that aspect.
"Paraphilias are defined as intense and persistent sexual interests outside of foreplay and genital stimulation with phenotypically normal, consenting adults." Examples of paraphilias are voyeurism, exhibitionism, and fetishism. Most people with paraphilias do not have a mental disorder and people with paraphilias may or may not act on the interest. Paraphilic disorders are distinct from paraphilias. Paraphilic disorders occur when the atypical sexual interest causes distress or is bothersome to the individual, or in some way causes distress or injury to another individual. There are numerous paraphilias and paraphilic disorders that are named based on the sexual interest." Source
The law and societal acceptance (two sides of the same coin) seem to be the only two factors at play really in what is behind most changes today.
Incest / "Step" Sibling/Parent/Child Fantasy
Pseudo-incest fantasy is going mainstream today. Try not to balk at that statement. First a bit on its history:
"For example, the incest taboo is perhaps the most binding moral constraint known to man.  The incest theme is pervasive in the literature and folklore of most civilizations, further reflecting the curious paradox of this forbidden matter – undeniable evidence asserts that incest is a universal preoccupation of the human condition, yet there is little frank and open discussion of it outside professional circles." – Incest: A Synthesis of Data (sagepub.com)
I hate to be the one to disappoint those researchers, but even the highly taboo incest fantasy is declining rapidly, even if its not exactly incest…yet.
The disturbing underbelly of the 'step' porn trend | Mashable
"Dr. Justin Lehmiller, a research fellow at the Kinsey Institute, surveyed 4,175 Americans between the ages of 18 and 87 about their sexual fantasies"
One in five people reported having at least one incest fantasy before
just three percent, said they had frequent incest fantasies.
Sensation seekers, those who need a heightened thrill in order to get aroused or orgasm, may also be especially attracted to incest porn."
What is happening is that "step" represents a less taboo form of standard incest because "step" simply means "not a blood relative." This seems likely that blood-incest is more taboo due to the fear of birth defects or other cultural historical factors, if conception does actually occur by mistake. But since pornography is acting, and because of the ever increasing need for sexual stimulation as a society, I am willing to bet that even blood-relative incest pornography, even if not explicitly stated as such, will eventually come into vogue along with other currently taboo topics that exist today. According to Google Trends and annual search trends, "trans" is probably now the fastest growing in pornography, even among non-trans people.
Ever Heightening Sexual Behaviors and Fantasies
Clearly, the need for ever greater stimulation is at the core of all sexual changes in the world today.
Pornography over time (these are not exact times obviously):
1890:  drawings
1950:  pictures of people in underwear
1970:  pictures of nudity
1980:  inter-personal audio (phone sex)
1990:  video
2010:  inter-personal video
2020:  immersive / 3-D /VR
2030:  robots
2030:  back to drawings (kidding)
If it is not clear, there's only a single linear direction happening for porn, which is simply to increase its realism and its availability, making fantasy virtually indistinguishable from fantasy, and virtual prostitution mainstream. This is the result largely of the constant increased need for stimulation to society as it continues to push the envelope. As newer websites develop even more personal, albeit false,  relationships with their customers, we are now at an age .
The second aspect of increasing stimulation has to do with the types of sexual acts. For example, one internet user survey (not scientific) reported that the single most popular search term on their adult site, by state, was "lesbian."  Clearly, the sexual desires and  taboos are moving towards abnormalcy for the entire population.
Perhaps the most important question of all sexual science is this:  What happens to a society when it runs out of stimulation? Some will think of this as impossible, but I think we are nearing it actually. It also explains the likely outcome that pedophilia will grow and there is a greater concern for child trafficking today; and likely why pedophilia was also common in the now-gone indulgent civilizations of the past. One person charted the growth of online child exploitation over the last few years. Maybe it's the result of an old practice going to the digital format, or maybe people are looking for something more taboo.
The NYTimes reports that the rates of reports for child abuse images online are about doubling every year.
Is Sexual Deviance Correlated with Pornography Consumption?
In a study ("Exposure to Pornography, Character, and Sexual Deviance: A Retrospective Survey") by Keith E. Davis, and G. Nicholas Braucht, they state "Amount of exposure to pornography was positively related to self-acknowledged sexual "deviance" at all ages of first exposure. Exposure was also related to a number of life history variables indicating early significant heterosexual experience and a greater involvement in homosexual and deviant sexual practices. " but were unable to tail if the dog wagged the tail or the tail wagged the dog.
Either way, higher sexual deviance do indeed seem to correlate with early pornography use and earlier sexual activity. Extrapolate this data to the world today where the average age of first exposure to porn is significantly lower than it use to be ("13.37 years of age with the youngest exposure as early as 5" according to the American Psychological Association), with the increased accessibility (volume), and it's apparent what the future holds.
Conclusions
A. Disturbing trends
I found writing this article and realizing abnormal is becoming the norm to be quite disturbing. To other people, they will probably think nothing of it.
B. What does this say about society and how much of it is a problem?
As mentioned in the introduction, one point to consider is the group that really imagines doing some of these things (e.g. rape fantasy) and those that do it for pretend (play acting). I do know know if there is much difference however from the psychological perspective even if it's by two consenting adults. Moral facets of this are in regular conflict as well.
C.  Rates of fetishes and sexual deviation from the norm are increasing over time. Abnormal is becoming normal.
That is to say, normal hetero-sexual, fertility-oriented, low stimulation centered sexual attraction is and will continue to diminish with time. I am of the mind that there are only two truths in the world today which are 1. As long as it hurts no one, it should be legal 2. If it increases pleasure, it is good. So the future, under current conditions, is very clear. I can predict many of the changes in the DSM manual for the foreseeable future.
D.  What will the end be to families and society at large? What would happen if a desensitized society somehow lost all access to sex, artificial and/or real? and if law itself broke down?  Would we be a different kind of animal then? As long as there is no risk of nuclear EMT attacks today bringing down the entire electrical grid across multiple continents, we will be fine.